Spaniel Sauvignon Blanc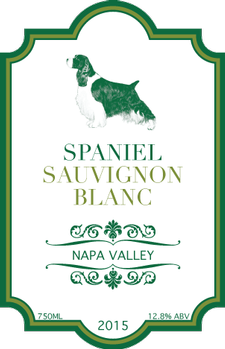 Wine Specs
Harvest Date
June 18th 2014
Aging
15 months in 50% Oak Barrels, 50% Stainless Steel
Bottling Date
September 2nd 2015
Let this Sauvignon Blanc pair with your Grilled Lamb Brochettes with Lemon and Dill or Asparagus and Shrimp Stir-Fry on Noodle Pillows.
With the first taste you will notice Tart lemon, grapefruit, melon. With your second taste you will enjoy tropicals like passionfruit ― even gooseberry ― over a pleasant grassiness and herbal quality. Spaniels are known as great hunting dogs, helping hutner's find the game they are searching for. Similarly this wine will help you find the hidden gems blended within this varietal and appreciate the subtle nuances of the Sauvignon grape itself.
Like a loyal companion, the Spaniel will heel at your command...right into your glass.
Wine Specs
Harvest Date
June 18th 2014
Aging
15 months in 50% Oak Barrels, 50% Stainless Steel
Bottling Date
September 2nd 2015
Wine Profile
Production
122 Cases Produced
Product Reviews
StevCalete
(Nov 22, 2019 at 7:20 AM)
Viagra Forum Pfizer cialis without a doctor's prescription Canadian Meds Cialis 5mg Dauer Canada Propecia
Janpype
(Mar 13, 2020 at 3:57 AM)
Cialis 20mg Original Buy Cialis Amoxicillin Dosage 120 Lbs cialis cheapest online prices Buy Viagra At Walmart 318
StepDic
(Mar 14, 2020 at 11:11 AM)
Dangerous Liquid Amoxicillin After Expiration Buy Cialis Posologie Cialis Tadalafil Cialis Priligy Bestellen Rezeptfrei
StepDic
(Mar 23, 2020 at 8:40 PM)
Priligy Comprimes Cialis Cialis Mg 5 Costo generic cialis online canada Predisolone 5mg Tab
lurnelP
(Jun 11, 2020 at 10:46 AM)
cialis otc thailand Cialis Amoxil 500mg Food generic cialis release date Low Price Cialis